Home security is serious business, and while a good lock on your door and an alarm system might help you feel more secure, there's nothing more reassuring than being able to quickly check in on your house while you're away.
Maybe you're a parent wanting to make sure your children are behaving themselves, maybe you've got people working in your house and want to make they're getting on with the job and not poking around, or maybe you just want to make sure that if the worst happens and you do suffer a break-in, you have video evidence of the perpetrators.
Whatever your needs, there are a range of different cameras out there for you to choose from, and thanks to recent developments in technology many of them come with the ability to steam HD-quality video straight to your phone and speak to people in your house over two-way speaker systems, while some can even use algorithms to tell the difference between your dog, and a person, meaning you don't get a notification every time your canine companion moves.
In this buying guide we're going to talk you through the best security cameras that we've tried out. We're going to be adding to this list with new devices as we review them, so keep checking back if you don't see one you like this time.
Indoor cameras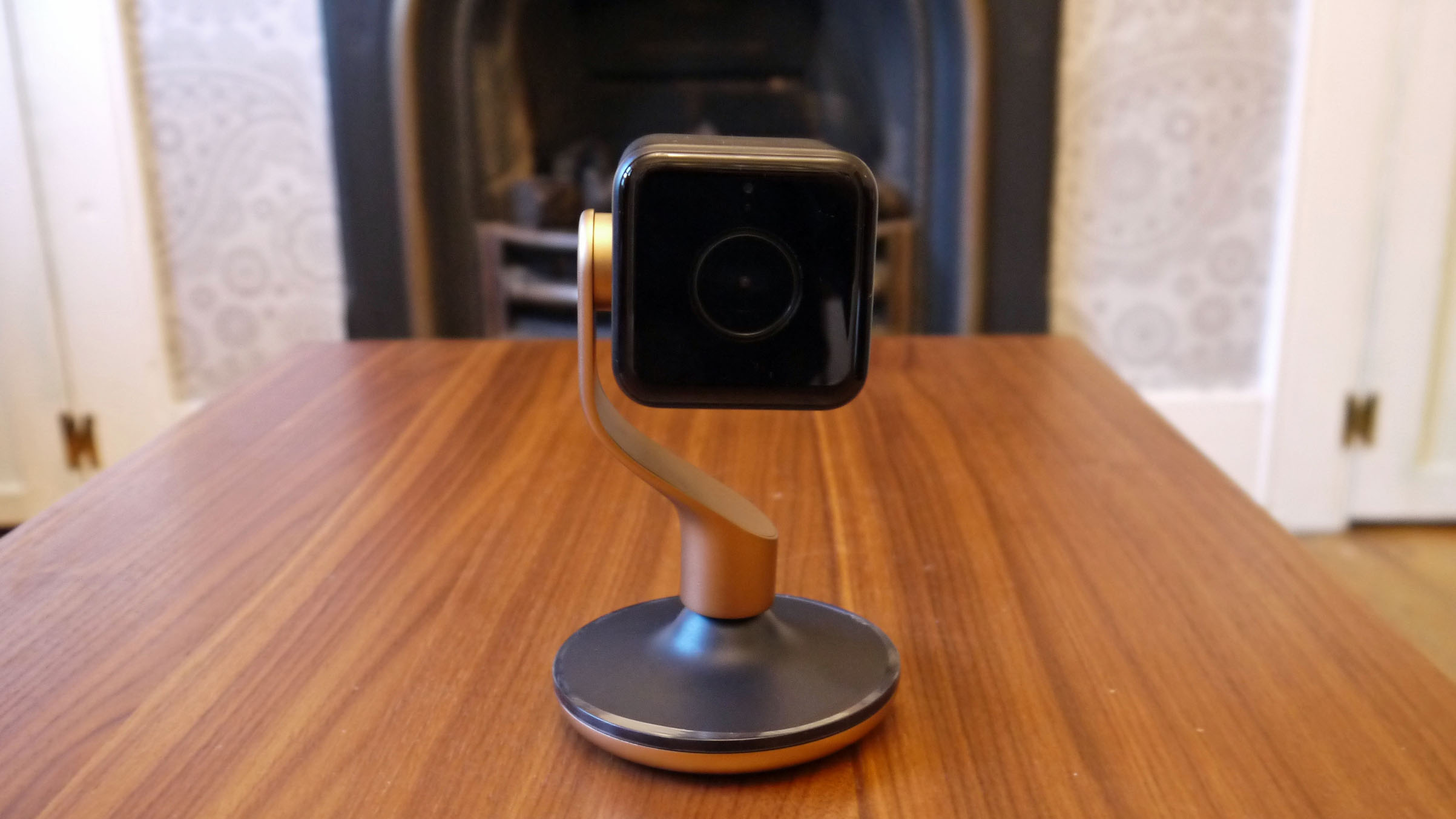 The Hive View is the latest camera from the smart home manufacturer behind the well-regarded range of heating control kits. A collaboration with designer Yves Béhar, the Hive View is one of the few security cameras we've ever seen that actually looks stylish, coming as it does in a choice of 'champagne gold' or black and 'brushed copper' finishes.
Thankfully, as much effort has gone into the substance as the style, and the Hive View comes with some really cool features. Most notable is its detachable head, which allows you to temporarily move the camera – with its HD 180 degree field of vision – to anywhere you'd like in the house for as long as the on-board battery lasts, which is about an hour. Perfect if you want to keep an eye on the baby while cooking.
The Hive View works with the wider Hive ecosystem, so if you've already got the Hive thermostat and sensors everything will work seamlessly together in the same app.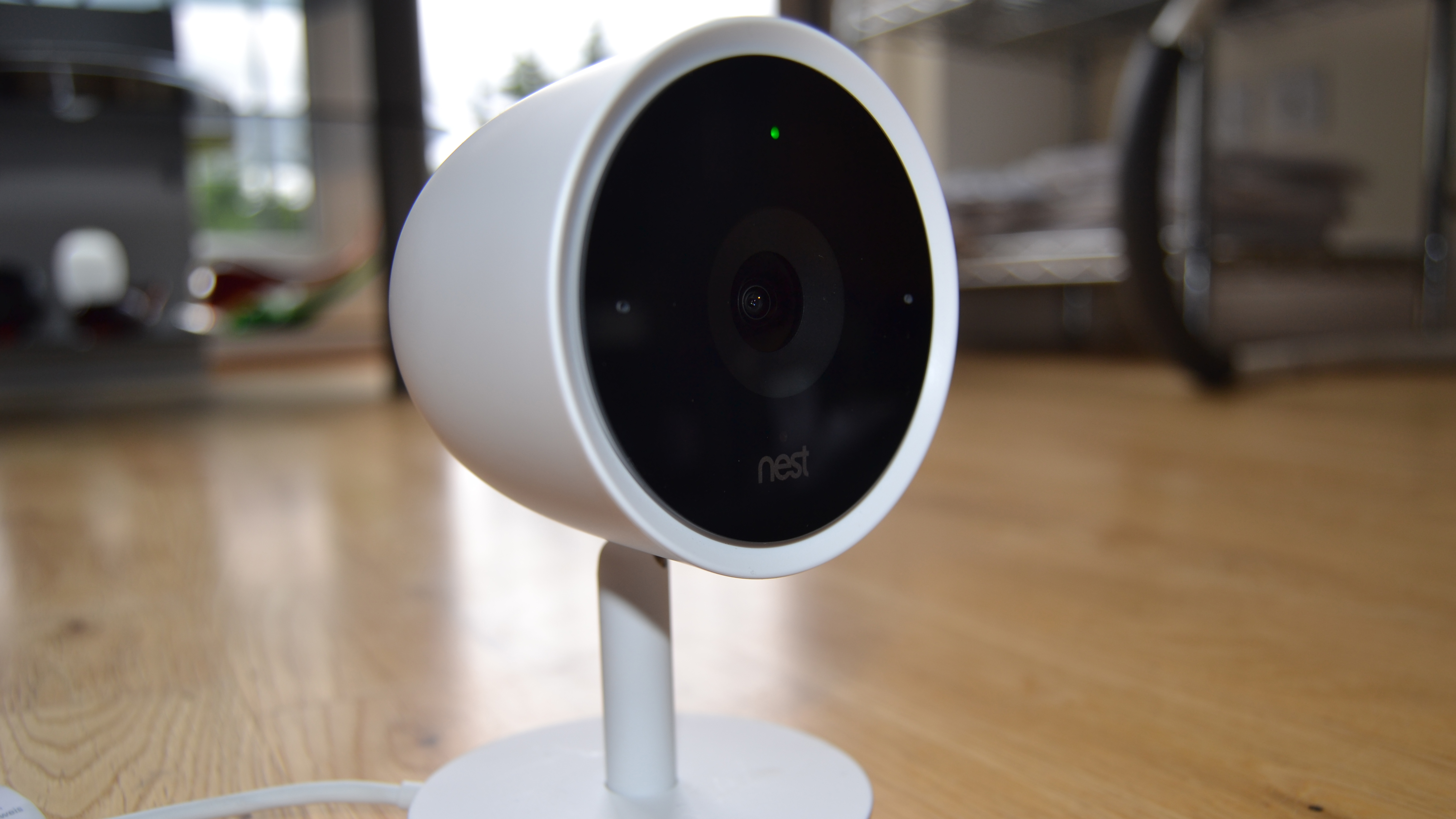 The Nest Cam IQ has IQ in the name for a reason: it's intelligent. Really intelligent. Not only can it notify you if there's movement in your home, it can differentiate between people and animals, and – what's really remarkable – it can even identify if it's a familiar or unfamiliar person.
The Nest Cam IQ also has the best image quality of any of the cameras we've tested, shooting in 4K and HDR (high dynamic range). If someone is in your home, you'll have crystal clear images of them.
The main drawback with the Nest Cam IQ is its price. Not only is it fairly expensive to start with, to use its full range of functions you'll have to purchase a subscription to Nest Aware. But if you want the best quality, and are prepared to shell out for it, the Nest Cam IQ is probably the camera for you.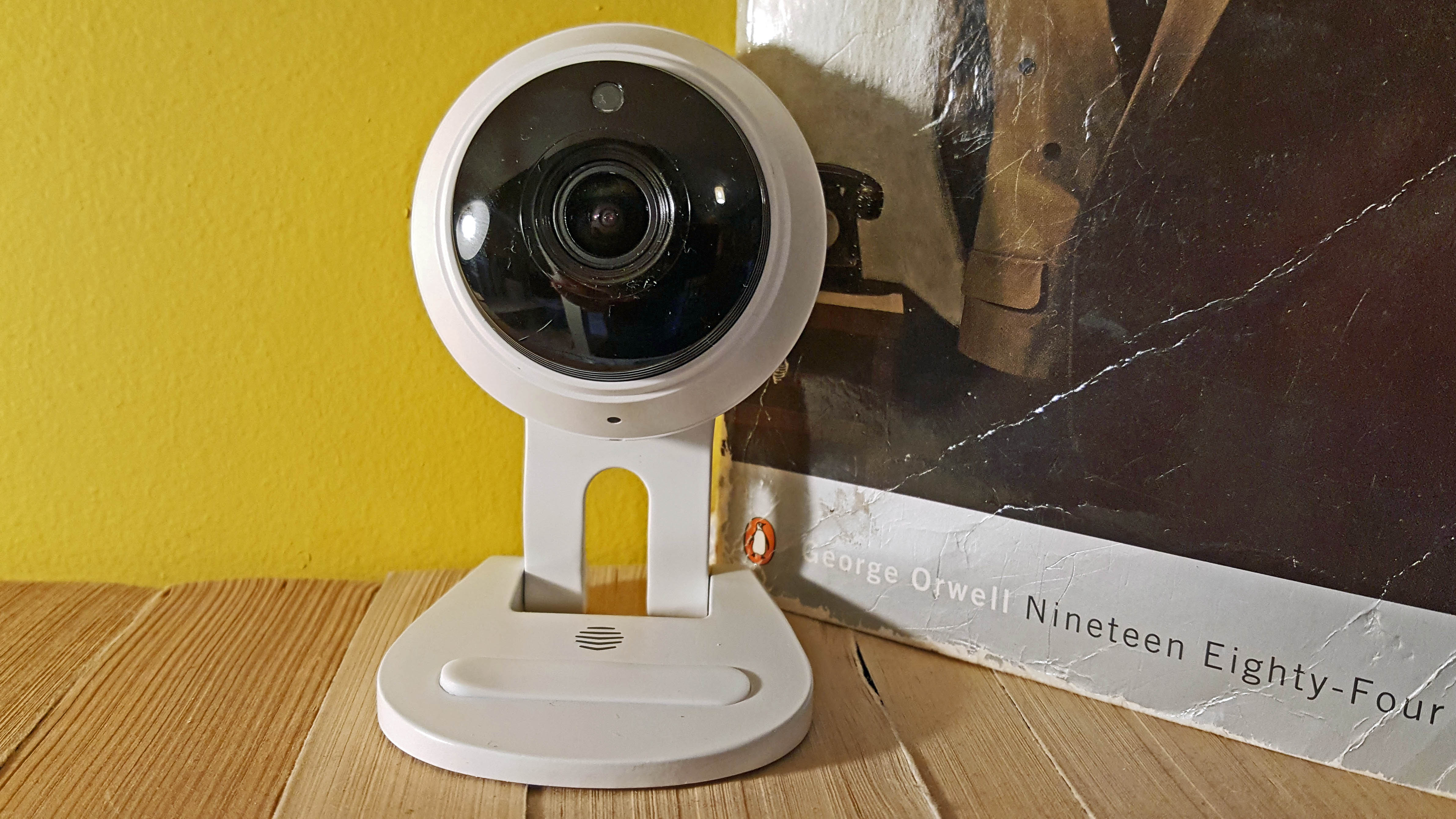 The Hive Camera is the original connected camera from Hive, and if you're not bothered about the View's swish looks and advanced features it may be more up your street. It'll be lighter on your pocket too.
The Hive Camera doesn't work with the Hive ecosystem, and instead has its own dedicated app, which is either going to be a positive or a negative depending on if you already have Hive products, or are planning on building out from your camera purchase. What's nice is that the Hive Camera has a slot for an microSD card so that you can record footage directly on the camera, with no need for a subscription.
The design is more traditional, with a white plastic casing, and a black surround for the camera lens. It has some tricks up its sleeve, like being able to sound an alarm or even replicate the sound of a barking dog if you see someone in your house who shouldn't be there.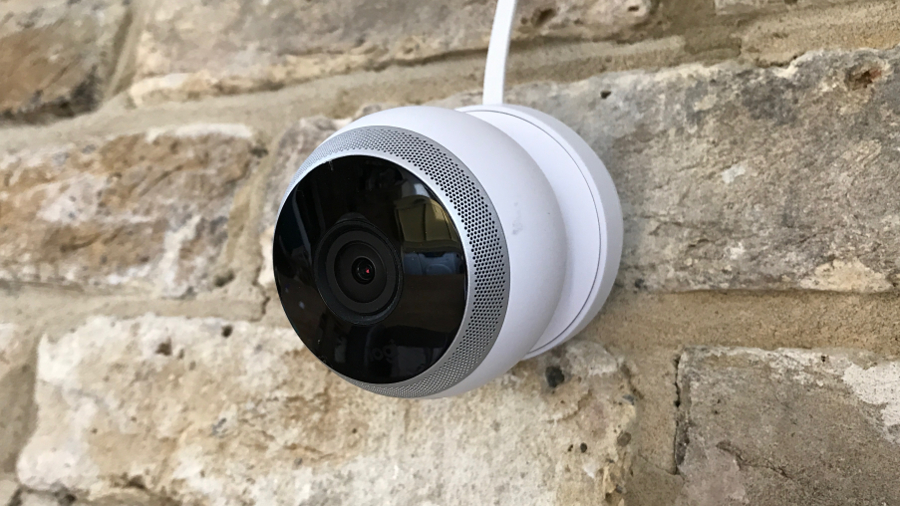 The Logi Circle lacks the integration with smart home systems that you'll get with more advanced systems like the Nest Cam IQ. Rather, it's a fun standalone option if you just want a security camera without any fuss. And yes, we did just say fun – it's not a word you typically associate with home security, but that was our reviewer's experience when spending time with the Logi Circle.
It has some intelligent features that allow you to set zones in your home – so, for example, if you want to know every time your dog jumps up on the couch, you can designate the couch as a zone, and any movement in that zone gets included in your digitally edited highlights reel of the day.
The camera only records footage where there's movement or audio, so at the end of each day you don't have to watch hours of footage to find the few moments where something actually happened. Like the Hive View it has an onboard battery, and so can be removed from its dock and used wirelessly for a short time.
Outdoor cameras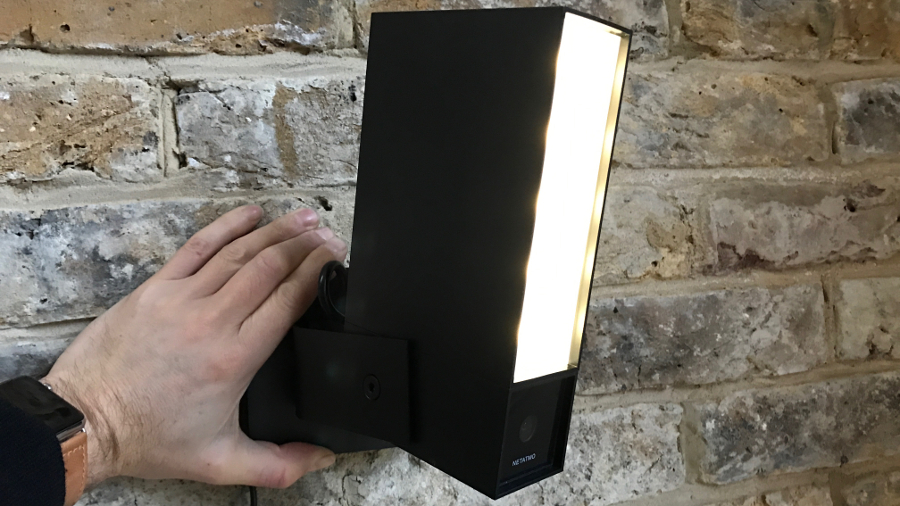 The Netatmo Presence is a definite statement of a security camera. Its hefty black body feels significant to hold, and is difficult to miss. This is both a strength and a weakness, as aesthetically it's probably not going to complement your house design, but it does mean it's a strong deterrent for anyone thinking about breaking in. Adding to the deterrence factor is the powerful dimmable LED floodlight, which you can adjust to your specified brightness. The Presence itself is an all-metal unit waterproofed to IPX7 standard, so you don't have to worry about it being outdoors in a storm.
You can adjust your notifications so that you're only alerted when the camera identifies a person (or animal, or car). One frustration is that the camera works over Wi-Fi, and that means it needs to be within communicating range of your router to work. A clear benefit is that the Netatmo has a slot for a microSD card, meaning you don't have to pay hefty subscription fees to record video, so you can quite quickly recoup the price difference for the fairly expensive unit.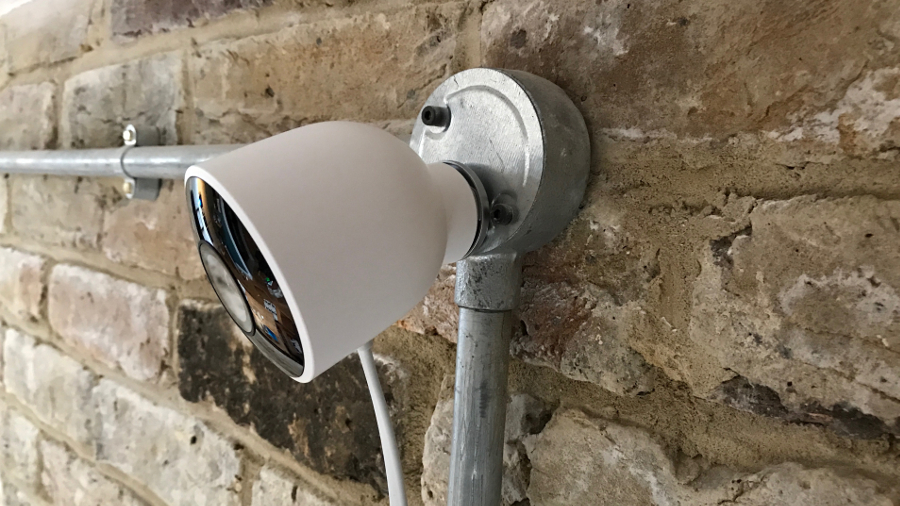 The Nest Cam Outdoor is, unsurprisingly, the outdoor camera from Nest. Much like its indoor counterpart, the Outdoor boasts brilliant image quality and a fantastic app – which is no surprise given Nest's origins as a Google company, now existing as part of Google's parent company Alphabet.
The Nest Cam Outdoor requires a subscription in order to unlock the full suite of features, but that's fairly common with security cameras. The one fault we have to pick with the Nest Cam Outdoor is that it connects to its base with a magnet, meaning a thief could feasibly pluck it from the base, and, er… steal it.
Nest is obviously aware of this flaw, and there is an upgrade in the works in the shape of the Nest Can IQ Outdoor, which has the smarts of the Nest Cam IQ (above), but is 'tamper-proof'. A claim we'll be sure to put to the test when it comes out.